Preparation, Collection & Processing Instructions
The critical first step in performing a laboratory test is the proper collection and preparation of the specimen. To ensure accurate results, it is very important the bar code labels are generated properly and specimens are handled and shipped correctly.
Standardization of specimen collection and testing procedures is essential for correct interpretation and optimal use of the laboratory data. Specimen collection, handling, and shipping may affect the quality of the results. Some biological factors, as well as physiological factors, may also influence results.
Before drawing or obtaining a specimen:
Check to make sure the patient's name and collection date are correct on the bar code labels.
Refer to the "Alphabetical Test List" section of this manual for complete test information.
Draw the patient for the appropriate tests.
Label the specimen tube/container with the bar code label.
Affix the label directly to the manufacturer's label with the accession number, patient name, and barcode oriented towards the cap of the tube.

To avoid bar code label creases, please ensure the label is placed evenly over the manufacturer's label.
Make sure the label is flat and smooth
Window view to the specimen
The nominal fill line is visable
Note: We will not process any specimen that is unlabeled.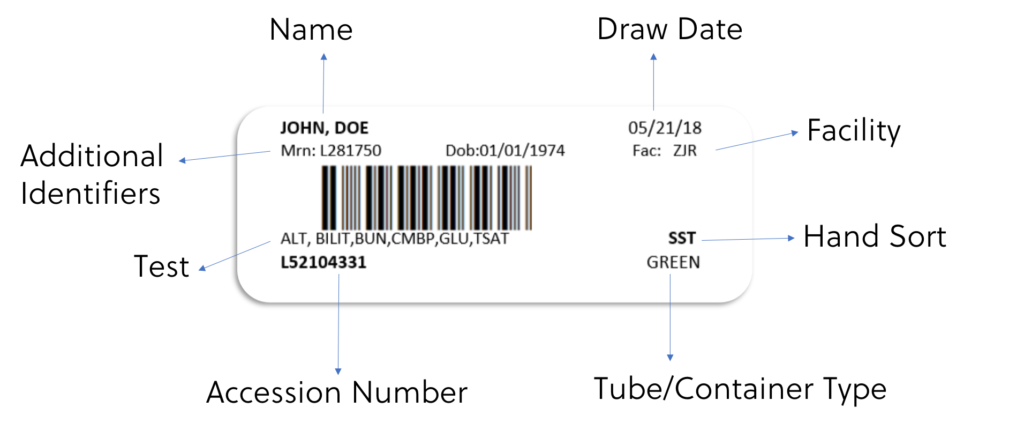 UNIVERSAL PRECAUTIONS MUST BE OBSERVED WHEN HANDLING OR PROCESSING ALL SPECIMENS