COVID-19 Antibody Testing
Ascend offers the SARS-COV-2-Antibody Assays from Siemens. The COVID-19 SARS-CoV-2 Total Antibody assay measures both IgM and IgG antibodies. These results determine whether a patient has a recent or prior infection. If Total Antibody is reactive, an IgG antibody assay is performed.
The COVID-19 SARS-CoV-2 IgG assay provides a qualitative interpretation and a semi-quantitative index to monitor IgG antibody levels (immunity). Ensuring vaccine effectiveness will play a key role in protecting the vulnerable dialysis population. Using the SARS-CoV-2 IgG assay post-vaccination, clinicians can detect patient IgG antibody levels and assess relative changes over time.
Antibody Testing Provides Valuable Information
Establish a baseline immune status.
Track the duration of a dialysis patient's immune response.
Verify the effectiveness of vaccines.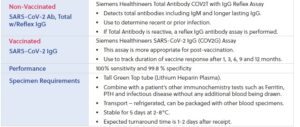 View Tests
COVID-19 SARS-CoV-2 Ab, Total w/Reflex IgG